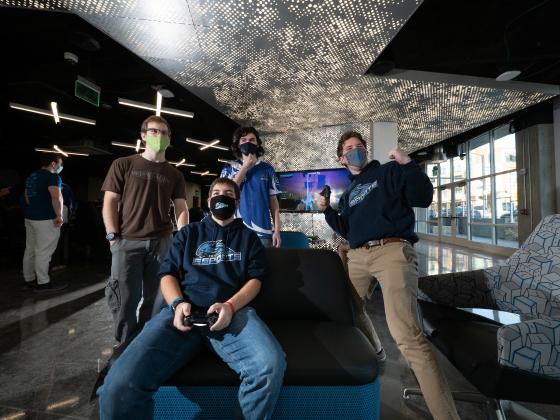 University of Kentucky Federal Credit Union
Esports Lounge
How to Play
To access gameplay, UK Students & employees can login with their linkblue and Non-UK Students will login with their GGLeap account.
 
Cost Per Hour
Big Cat Packages
Students & Employees

Cost Per Hour

$4

Big Cat Package

$100 (30 Hours)
Non-Student

Cost Per Hour

$5

Big Cat Package

$100 Community Package (25 Hours)
UKFCU Lounge Hours
Monday - Saturday:
7:30 - 12:00 a.m.
Sunday
12:00 - 6:00 p.m
ALIENWARE GAMING DESKTOP  |  MICROSOFT XBOX ONE X   |   SONY PLAYSTATION 4 PRO   |   NINTENDO SWITCH
Apex Legends
Fortnite
Overwatch
Super Smash Bros. Ultimate
Valorant
Call of Duty
Counter Strike
Destiny 2
Diablo
Dota 2
Gears of War
Halo
Hearthstone
Heroes of the Storm
Hyper Scape
League of Legends
Mario Kart
Minecraft
Paladins
Rocket League
Rogue Company
Smite
Starcraft
Rainbow Six Siege
World of Warcraft
COVID-19 protocols are currently in place. We ask that you maintain social distancing and wear a mask at all times. To limit our capacity, we are allowing every other computer to be used. We are also only using two controllers per console instead of four. 
We have sanitizer and cleaning wipes at each station to use before and after use.
Campus Health and Safety Requirements
Want to be a part of Esports?
Esports Club Discord
Join the University of Kentucky Esports Club Discord to see the variety of competitive teams that UK students are leading:
Start your own team
Want to form your own team? Fill out this form and start recruiting to your squad.