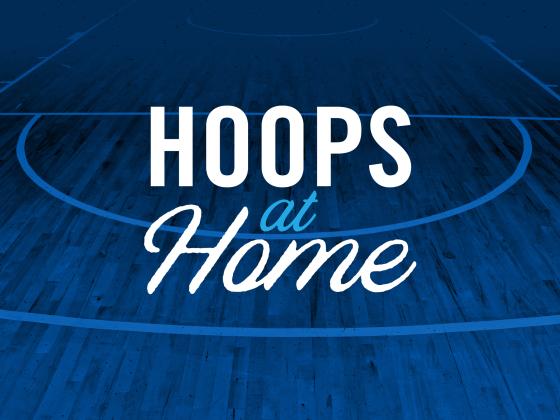 Rewatch Immanuel Quickley Defend His Hoops at Home Title
Thank you to our 2021 Sponsor Coca-Cola®!
Congratulations to our 2021 Hoops at Home Bracket Winners:
Prospective UK Student: pluto_wrld27
Current UK Student: Camodope
UK Alum: Daominance
Hoops at Home NBA 2K21 Tournament FAQ
Schedule
Hoops At Home - April 9-11, 2021
How To Enter
All participants MUST fill out the Hoops at Home Tournament Form to be included in the tournament. 
All participants who register will play in the qualifier tournament and be invited to the tournament operations site.
Complete your sign-up by April 6, 2021
Tournament Logistics
All participants are assured seven matches.
The tournament is Swiss Style
Players will be matched after every game with someone of the same or similar record for their next game

Ex. a 1-1 player will play against a player who is 1-1

The top 16 players will qualify for the main Hoops At Home event in Spring 2021.
All rounds of the tournament will be best of one and single elimination, except for the semi-finals and finals which will be best of three and single elimination. 
Please see the Hoops at Home Tournament Rules for more information.
GENERAL TOURNAMENT RULES
All games will be played using NBA 2K21
Tournament is Swiss Style
The length of playing time will be five minutes per quarter
Overtime length will be three minutes
Only current NBA teams are allowed. Retro, Fantasy and/or All-Star Teams are prohibited
The Hoops at Home tournament will be played with NBA 2K21
Changing the teams during the qualifier is permitted
Plays and coaches' settings can be changed during the tournament
Two competing players are allowed to play with the same team
Hoops at Home officials may order the pause of a match or execute a pause command at any time, for any reason, and for any duration at their sole discretion
If a game experiences a critical bug at any point during the match that significantly alters game stats or gameplay mechanics, then a restart may occur. Certain circumstances must be met before a restart may occur. Hoops at Home officials will have full discretion in determining that the bug is critical and verifiable
GAME SETTINGS
All Settings and Camera Views are DEFAULT. Skill level is HALL OF FAME
MANUAL OR AUTOMATIC Substitutions, Time Outs, and Late Game Fouling are allowed but must be pre-set before the start of the game
No manual substitution via START button. Substitutions are only allowed in-game via D-Pad and during called Time Outs
Team starting roster adjustments must be made before going into the game
Injuries/Player Fatigue will be on
If you pause the game using the START button you must burn a timeout as a penalty. If you have no timeouts left, you will be required to take a penalty (delay of game for offense, or out of bounds for the defense)
If the game goes into overtime the competing individuals will be allowed to compete given the allotted time. The individual with the highest score at the end of the overtime game wins the game.
In the event of an extreme scenario that has a big impact on the game like outage of power, accidental unplugging or some other event not in either player's control that would not allow the participants to finish the game, the game will be completely restarted.
CONDUCT
A Player may not use language that is obscene, foul, vulgar, insulting, threatening, abusive, libelous, slanderous, defamatory or otherwise offensive or objectionable; or promote or incite hatred or discriminatory conduct, in or near the match area, at any time. A Player may not use this type of language on social media or during any public facing events. 
A Player may not take any action or perform any gesture directed at an opposing Player, fan, or official, or incite any other individual(s) to do the same, which is insulting, mocking, disruptive or antagonistic. 
Abuse of Hoops at Home officials, opposing Players, or audience members will not be tolerated.
No Player or Hoops at Home Official may take part, either directly or indirectly, in betting or gambling on any results of any Hoops at Home tournament matches.
Players are prohibited from soliciting any service or selling any goods during the Hoops at Home event. 
Narcotic use of any kind on camera is not permitted and will result in disqualification.
Usernames may not contain the following: vulgarities or obscenities; or derivatives of products or services that may create confusion.
All Usernames must be approved by Hoops at Home officials in advance of use in play. Unapproved name changes are not allowed under any circumstances. Hoops at Home officials have the ability to deny a Username if it does not reflect the standards sought by Hoops at Home officials. A player will be notified by a EVENTAB official if their name does not meet the standard and will be allowed to change their name. Players may not change their Usernames on their main account during the season. University of Kentucky is not responsible for complications or costs that arise as the result of name changes. 
If you are more than five minutes late to a game's posted time, you forfeit that game.
If a player purposely turns off a game while it is in progress, that player will forfeit that game.
No verbal or physical threats of violence to other tournament participants. This will result in your immediate disqualification from the tournament.
COMPETITION ELIGIBILITY
All participants must complete the Hoops at Home Form to be eligible to participate in the tournament. 
All players must be at least 13 years old. 
Players may not have any current disciplinary suspension from 2K Games or 2K Sports affiliated competitions.
ADDITIONAL RULES
In the event of a disconnection, game will be paused as player attempts to reconnection. If a player is unable to reconnect within 10 minutes, tournament operators and/or the University of Kentucky will rule on the match with full discretion.
WE RESERVE THE RIGHT TO ADD, DELETE OR CHANGE RULES AT ANY TIME DURING THE TOURNAMENT, ESPECIALLY WHEN A NEW GLITCH IS FOUND.
FURTHER, BY AGREEING TO PARTICIPATE IN THE FOLLOWING VIDEO GAME TOURNAMENT YOU UNDERSTAND THAT PICTURES FROM THE TOURNAMENT MAY BE POSTED FOR PROMOTIONAL PURPOSES AT THE COMPANY'S WEBSITE, SOCIAL MEDIA OR IN A FUTURE BROCHURE.
PENALTIES FOR BREAKING THE RULES & LIABILITY
The University of Kentucky and Hoops at Home Officials have full discretionary power on all matters, including player disqualification. 
All University of Kentucky decisions are final.